The Chinese currency is still not a major global reserve currency. In order to be clear about what one is discussing, it should be pointed out that the technical name of the Chinese currency is the Renminbi (people's currency). The Yuan is a unit of currency. Usage varies from author to author, but in this article Renminbi will be used as the name of the currency and Yuan as the unit of currency. In some cases they can be used interchangeably.
The Renminbi is now included in the list of official global central bank reserve currencies, but it is not a major player. The role of the US dollar is slightly less important as the percentage of allocated reserves in dollars has fallen from 66% to 60% in the last six years.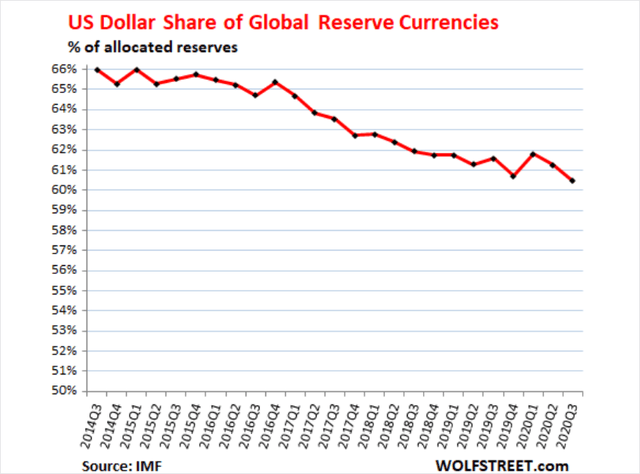 The Euro is the second most important global reserve currency and makes up 20% of global central bank reserves. The Renminbi started out at 1% in 2016 and is now slightly over 2%. See the chart below.
The Digital Yuan
There have been various articles about the introduction of the digital Yuan, which is still at the testing stage in several Chinese cities. One can assume that the bugs are being eliminated and that the digital version of the Yuan will work with phone payments and all the other electronic digital means of payment. The use of blockchain will make it possible to trace the history of payments, and the currency will be traceable by the PBoC, unlike Bitcoin.
What this means for the diffusion of the digital Yuan will be seen in the near future when its use becomes general in China. It is to be expected that other countries will develop their own digital currency, following the Chinese example.
Read more: https://seekingalpha.com/article/4398407-keep-eye-on-yuan